Risso's Dolphin washed up at Muness
|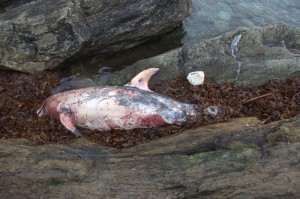 Unst is as good a place as any to see cetaceans (whales and dolphins), although it is always a matter of luck when you encounter these creatures. One speciality of Unst waters is Risso's Dolphin Grampus griseus, the largest dolphin in British waters. A pod or school of Risso's Dophins is apparently resident around south Unst and Fetlar, and they are occasionally seen offshore – one group of Baltasound pupils were even lucky enough to see them while sailing on Shetland's sail training vessel Swan last summer.
Unfortunately, one of the group has been washed ashore in the last few days. A large male, estimated to be about 3 m long, has been found at Scolla Wick at Muness. It may be possible to confirm its identity as a member of the local pod, as a group who have been working on Killer Whales in Shetland in recent years have also done some work on the Risso's Dolphin population, but it is the pattern of scarring on the skin that is used for identification, and the specimen may be too decomposed. The scarring, incidentally, is caused when the animals fight each other. presumably to establish social dominance within the pod.
Other than the normal scarring, it is apparently unharmed, so the cause of death is unknown. It is too large to send south for a post-mortem, but a blubber sample will be sent for analysis – this can be used ho monitor levels of heavy metals and other toxins.
Still an impressive creature, even in death, but I promise the next wildlife update will feature a living creature (!).
To keep up to date with wildlife sightings in Shetland you can check the Nature in Shetland site or you can check out information on the Killer Whale project.
Scolla Wick at Muness, and Hunt's Holm, a little further along the coast