BOPs is a nickname used by birdwatchers for Birds of Prey, and the highlights of spring passage on Unst so far have been some large raptors.
First of all was a Goshawk, found by local nature guide and ferryman Brydon Thomason in the plantation at Halligarth on 1st and 2nd May. It was also seen at Baltasound school on 9th May. Goshawks are like very large Sparrowhawks and breed in forests in northern Europe, with a few in Britain. The last Goshawk seen on Unst was way back in 1976.
Next, a Black Kite appeared on the island. It was first seen on Yell by North Isles Ranger, Rory Tallack, but it spent a few days on Unst before heading off to Whalsay and Fetlar. While on the island it moved between Norwick, Burrafirth and Baltasound (although it managed to pass through Haroldswick without being noticed by any birdwatchers). It was the second Black Kite to be seen on Unst, following a bird which visited the island twice during a prolonged stay in Shetland in 1997 (several Red Kites have also been seen). Black Kites breed around the Mediterranean, but occasionally overshoot on spring migration and end up further north than they intend.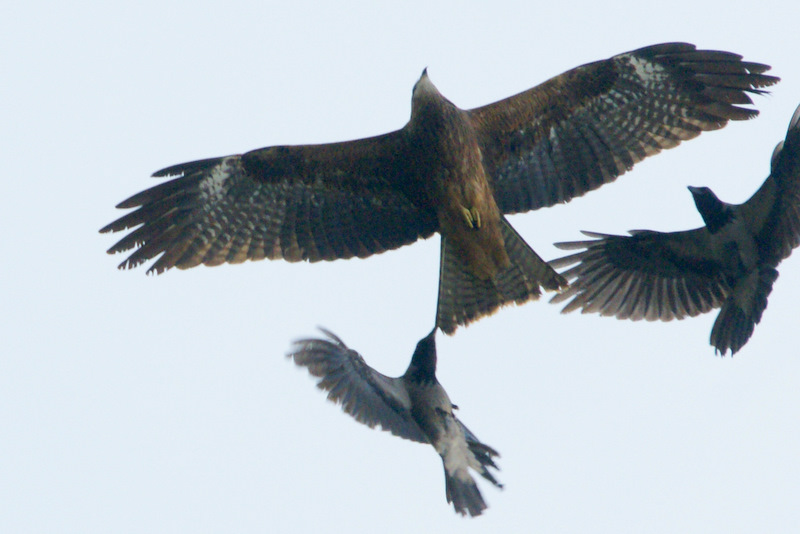 An Osprey has also been on the island, with a particularly prominent bird spending most of its time at Burrafirth, but wandering back and forth as far as Skaw. Ospreys actually turn up on Unst almost every year, with Burrafirth and Uyeasound being particularly favoured locations. The north end of Loch of Cliff at Burrafirth is probably the best place in Shetland to see this species. Shetland migrants are probably birds that breed in Scandinavia, but almost all the breeding birds in Europe winter in Africa.