Three teachers (Susanne Osei Bonsu, Ruth Kyeremateng and Veronica Akosua Amanfu) and a parent (Ernest Aggrey) came over from Ghana and stayed here for a week after Mrs Gibb and Mrs Fraser went over to Ghana at Easter time.
They stayed in Unst and Yell with Mrs Gibb and Mrs Jane Macaulay and were learning about how we learn and what we play. They also went to the Unst Vs Yell football/netball tournament, the book fayre and to a specially organised African drumming night.
They all saw different sights of Unst and really enjoyed themselves (although they thought it was quite cold!).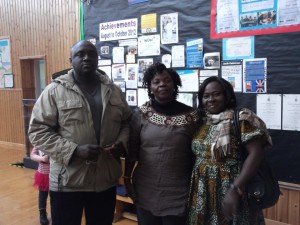 Posted by Ellis – BJHS Pupil Council Member.