Unst Skip Service is Back!
|
Unst Partnership Ltd have managed to secure a skip service back to the residents of Unst for 2015/16. The service was taken away by SIC and so, in order to control waste management and avoid fly tipping, the Unst Partnership looked to bring the service back.
On Saturday 13th June, the first skip day was held for two hours. The day resulted in two full skips taken to Lerwick, plus metal and white good pick ups for Shetland Amenity Trust.
The skip service offers residents the opportunity to become an annual member for £45. This will grant unlimited access to the 6 skip service dates throughout the year. To become a member, please email unst_partnership@btconnect.com or call 01957711495.
The skips are also open to non-members who can use the service under a £15 pay per use system.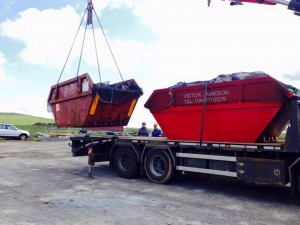 Unst Partnership Ltd would like to thank Victor Jamieson, Shetland Amenity Trust, Unst Community Council and the local Unst community for backing the much needed service!
Skip day #2 – August 15th 2015 at Northside, Baltasound between 0930-1130.