Uyeasound Up Helly Aa 2013
On the 15th of February Uyeasound Up Helly Aa took place at the Uyeasound hall. The Jarl this year was Colin Jamieson who is a vet. First the Jarl squad came to the Baltasound school and Colin gave a speech at the school, then was off to Nordalea Care Centre.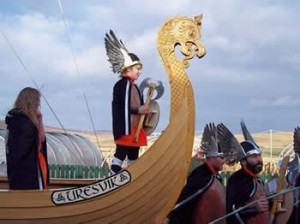 In Colin's Jarl squad was about 16 people. 2 were from Edinbugrh, 2 from Weisdale and the rest where from Unst. Derek Jamieson was in the Jarl squad he is Colins brother. Roderick Jamieson was also in the Jarl squad.
In the night the Jarl squad went to the Galley Shed to meet for the procession. This year there was about 120 guizers then they all walked down to the burning Galley.
Once there, Colin said to "trough in your torches" then it was back to the Hall for all the squads to go on the stage. After the acts there was some dancing and at the end of the night everybody sang Auld Lang Syne.  
This post was by Sam, P6 @ BJHS.