Uyeasound Up Helly Aa 2015 – DVD Available
|
The Baltasound Pupil Council were hard at work during Uyeasound Up Helly Aa, raising money for school funds and supporting our local events like Up Helly Aa. During the day of Up Helly Aa, the pupils ran a coffee shop and made sandwiches to be sold at the Uyeasound Hall. This money paid for an information screen for the school – showing the latest news in school and for displaying photos and videos of the students at work.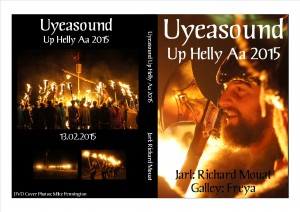 In addition to this, the Pupil Council organised local photographers and video enthusiasts to record the Up Helly Aa procession and the acts in the hall – which was later made into a DVD. This DVD has now sold numerous copies and contributed further towards school funds. This money will go towards new football nets for Primary and Secondary as well as any future projects selected by the Pupil Council.
DVD's are still available for £10 – contact the school (paulthomson@shetland.gov.uk) to obtain a copy.