6 Unst Athletes Head to Natwest Island Games
|
NATWEST ISLAND GAMES | SAT 27TH JUNE- FRI 3RD JULY 2015
Five talented athletes from Unst today started their journey with Team Shetland to compete at the Natwest Island Games 2015 in Jersey. We will be keeping up with races, games and events they're competing in on our Facebook page – click here.
Louise Parr: Triathlon
Faye Cox: Athletics
Matthew Cox: Athletics
Neil Laurenson: Football
Erik Thomson: Football
Bonar Barclay: Triathlon and Cycling
Unst would like to wish them all the luck in the world!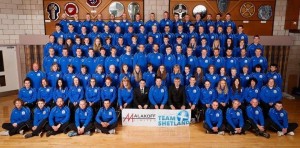 To follow the whole games visit www.jersey2015.com or #Jersey2015 on Twitter
To follow Team Shetland, follow them on Facebook or Twitter @TeamShetland