Unst hosts BBC One Grand Tours of The Scottish Isles
|
On Monday 12th October 2015 the island was showcased on BBC One Scotland's TV programme Grand Tours of the Scottish Isles with prime time viewing at 7:30pm.
It was known in the community the TV film crew were present in Unst during the summer months to experience island life and get it on camera. The show takes you on a journey through the northern isles before ending on Unst, with scenes of Muckle Flugga and Out Stack showcasing the northerly atmosphere we have.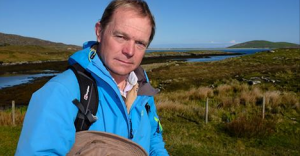 featuring. Shetland Nature, Glansin Glass, Unst Heritage Centre, Muckle Flugga, Out Stack and of course, the most famous bus stop in the world, Bobby's Bus Shelter.
The episode is available for viewing until 27 October 2015 – http://www.bbc.co.uk/iplayer/episode/b06h36br/grand-tours-of-the-scottish-islands-series-3-6-northern-exposure-the-north-isles-and-out-stack