Preperations Begin for Up Helly Aa
|
As February draws closer and the festive season comes to an end, preparations are now in full swing for Up Helly Aa!
Friday 12th Feb – Uyeasound Up Hell Aa
Saturday 13th Feb – Uyeasound Up Helly Aa Hop
Saturday 27th Feb – Norwick Up Helly Aa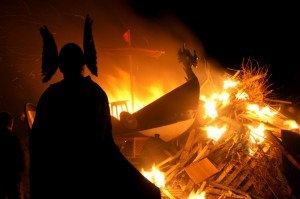 Up Helly Aa is a tradition that originated in the 1880s. Since then the festival has been an annual occurrence in the Shetland calendar.
Up Helly Aa is many things to many people, throughout the day there are experiences a plenty to be had by all from the celebration of our history, the sight of the Guizer Jarl and his Jarl Squad to the evening procession and party atmosphere in the hall. Local residents also take part in the firelit procession dressed in costumes which often hide their identity.