Creative Writers' Retreat at Gardiesfauld
|
Last weekend saw a group of 9 aspiring writers head to Gardiesfauld Hostel in Unst for a creative writers' retreat. Organised by Unst Partnership and supported by the Coastal Communities Fund, the weekend consisted of two days of lectures, workshops, and masses of practical exercises. Hosted by screenwriter and author: Joy Perino Saloschin and local author: Frankie Valente.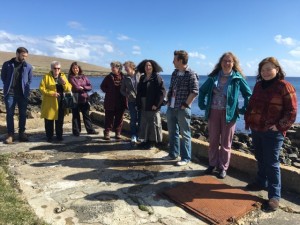 The weekend focussed on covering story in all its glory, either in novel or screenplay form. From zero to fascinating concept, planning the structure, creating characters, dialogue, genres, great beginnings, knockout endings, and much more. Participants either worked on an idea they had already, or they created a great concept from scratch. 
Frankie said: "I loved the weekend. It was such a pleasure to spend time with such an interesting and creative group. I would definitely like to do this again sometime. This weekend was an excellent opportunity to reconnect with the island of Unst too."
The creative writers retreat is hopefully going to be re-run over the Summer.