The Final Checkout Cafe is a popular lunch option for both visitors and locals. The small cafe situated in The Final Checkout Shop offers up an affordable and homely selection for lunch: fresh soup of the day and a roll, baked potatoes, toasties, children's menu and a variety of other choices. Following your lunch, a selection of delicious home baked cakes are available for a quick dessert. Hot drinks or a cold juice from the shop fridge will keep you refreshed and fuelled as you continue your days activities.
Reestit Mutton Soup is often a 'soup of the day' for those wishing to taste a traditional Shetland soup!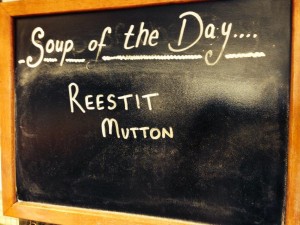 Bookings are generally not taken for the cafe, however if in a large group a booking may be advisable.
Call 01957711666.
test