The island of Unst had a dramatic beginning, which left the island straddled over two very different tectonic plates and as a result, the island can be divided into eastern and western halves. Schists and gneisses create the spectacular scenery in the west of the island whilst serpentine and gabbroic rock, which were once part of an ancient ocean seafloor, are most common on the east side of the island. This geological freak has played an important role by leaving deposits of many minerals including chromate and steatite, 'soapstone', which was used by the early inhabitants to make pots and pottery.  Unst has an important role to play in Shetland's Geo Park.
More information on the geology of Unst can be found on Geopark Shetland and at Unst Heritage Centre.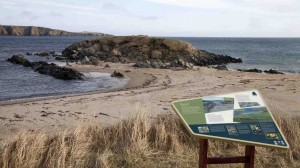 Walk over 500 million year old rock on Unst, and take in the rugged coastline. At Hermaness, look out for stacks, caves, geo's and skerries. If taking a walk over Skaw Beach, spot the large pink feldspar crytals in the granite. And there is much more!
Click here for information on North Isles geology.
Click here for the Shetland Geology website, where masses of geological information can be gathered.