A visit to the Keen of Hamar  Nature Reserve is a botanical highlight for those interested. It's also a place where wildlife is often spotted. Located in Baltasound, you park your car in the small carpark at the end of the road which boasts the Unst Bus Shelter. Hop over the stile, and start your journey up the hill to spot some wonders.
Edmondston's Chickweed is the most sought after flower throughout the summer months, as the Keen of Hamar is the only place in the world this flower grows. It has been described as a 'lunar landscape' due to it's barren landscape; however appearances are deceiving.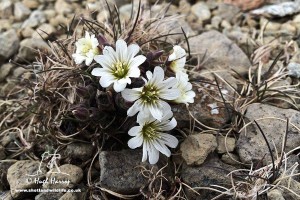 The soil here is amongst the oldest and poorest in Britain, but is home to some very unique flowers. Alongside Edmondston's Chickweed (Cerastium nigrescens), you may also spot Northern Rock Cress (Arabis petraea), Hoary Whitlow Grass (Draba incana) and Norwegian Sandwort (Arenaria norvegica).
Please do not bring dogs onto the Keen of Hamar due to its fragile habitat. Remember to take care near cliff edges, and please only take photographs. At no point are plants to be taken from the Keen of Hamar.