Halligarth is a historic house and planned landscape in Baltasound on Unst, Shetland. The property includes the UK's most northerly wood, planted by Dr Laurence Edmondston in the 1840s. It has been home to four generations of the Edmondston and Saxby families, who have made significant contributions to our understanding of Unst's unique natural heritage.
As a site of signficant heritage, Haligarth House is now in the middle of project development in an attempt to rescue and restore the house and surrounding land.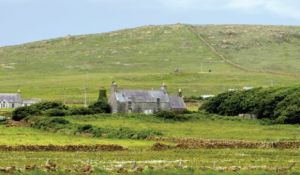 The National Trust for Scotland will take the lead on this project whilst working with appropriate partners to rescue and restore Halligarth house to the highest standards. With an interpretation interior, the refurbished premises will offer up a unique space with offices, a public meeting room, a resource library and a small cafe. Outside accessibility and landscape will also be improved and conserved for the enjoyment of anyone who would like to visit the site. An exciting project that will grow and assist existing heritage tourism on Unst whilst providing wider community benefit.
Partners on the project: the local community, the donor, Unst Partnership Ltd, The National Trust for Scotland and Shetland Amenity Trust
TO FIND OUT MORE ABOUT THE PROJECT, PLEASE CLICK HERE TO VIEW THE UNST AND YELL BLOG UPDATES FROM NTS