Muckle Flugga Lighthouse is the northernmost lighthouse in the United Kingdom and is located on a protrusion of rocks in the Atlantic Ocean, on the northern tip of Unst. The lighthouse was built by David and Thomas Stevenson (of the Northern Lighthouse Board) and completed on the 1st of January 1858, though a temporary light had been in operation since October 1854.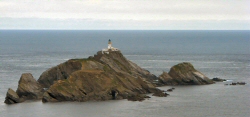 The need for a lighthouse to protect shipping was evident as far back as 1851. The temporary structure established in 1854 was only built to resist the wind and rain (as it was situated 200ft above sea level and was 50ft in height) though it was soon discovered that the sea would still pose a problem to the structure. At the time, it was reported that during the winter months, the waves regularly crashed into the tower forcing the re-design of the permanent structure to ensure the light was sufficiently elevated from the sea.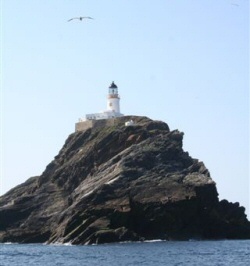 Work began on building the permanent structure at Muckle Flugga in June 1855, though there was some debate that the lighthouse should, instead, be situated at Lamba Ness. Built and engineered by David and Thomas Stevenson (who also built other Shetland lighthouses including Old Skerries and Bressay), the walls of the tower are 3½ft thick, 64ft high and the foundations are seated 10ft into the rock.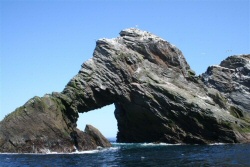 The lighthouse was originally a fixed light, however this changed to group-flashing (every 20 seconds) in 1927/1928. Newer living quarters were added in 1968/1969 to replace the original, basic accommodation and allowed for up to 3 lightkeepers to be stationed at one time. The lightkeepers worked in '1 month on – 1 month off' shift patterns with provisions being shipped out on a basis determined by the weather conditions. The later introduction of a helicopter service greatly eased the safe transfer of both lightkeepers and supplies.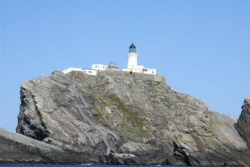 Originally named North Unst, the lighthouse was renamed Muckle Flugga in 1964 and the light was automated in 1995.