THE CREEK, HAROLDSWICK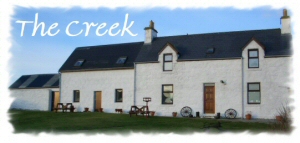 The Creek is a self-catering croft house situated in Haroldswick. The house overlooks the sea at Haroldswick Bay with superb views, and is approximately half a mile from the pebble beach with abundant birdlife, otters and seals. The house is within walking distance of the Unst Boat Haven, the Unst Heritage Centre, Hermaness Nature Reserve and the Viking Longship Project.
Contact:  I. Thomson
Tel:  +44 (0)1957 711352
Email:  enquiries@creekcrofthouse.co.uk
Web:  www.creekcrofthouse.co.uk
—–
NORTH DALE, HAROLDSWICK
North Dale Haroldswick Unst Shetland  ZE29DT   Visit Scotland 3 Star Accommodation.
A traditional croft house in a quiet rural setting. Recently renovated to include all amenities.  Ideal location for bird watching and walking.
Contact: Irene & Tony Mouat
Tel: 01957 711579
Email: clingera@btopenworld.com
—–
LOWER TAFT, MUNESS
Newly refurbished croft house situated at Muness, Unst now available for holiday lets.
The property
Sleeps 6 comfortably
2 Double rooms
1 twin room
Sitting room
Kitchen with dining area (fully equipped)
1 bathroom (separate shower room)
1 Shower/toilet room
Utility room
Towels, Linen and heating all inclusive.
Non-Smoking.
Peaceful surroundings with nice views
Please contact Lilian and John Peterson for more information and bookings.
Tel:  01957 755306
Email – hildisvik@btopenworld.com
—–
SCRAEFIELD – BALIASTA, BALTASOUND
Former crofter's cottage which sleeps 4 located in Baliasta. The cottage boasts 2 upstairs bedrooms (one double and one twin), kitchen and sitting room.
There are many beautiful walks that can be started from the cottage. The house is also close to the Loch of Cliff, Baltasound Leisure Centre and the local stores.
Contact: The Gray Family
Tel:  +44 (0​)7754981822 /  +44 (0​)7944546631​
Email: scraefield@gmail.com
Price:  £250-£320 per week (dependant on season)
—–
NORDABRAKE- HAROLDSWICK
Saxa Vord's 18 Nordabrake Self Catering Holiday Houses (3 star accommodation).
Built in 1989 as warm and comfortable home-from-home's for RAF families, Saxa Vord's Nordabrake houses remain as warm, bright and comfortable as ever.
Recently awarded 3* by VisitScotland, each house has 1 double bedroom, 1 twin room and 1 single room, as well as a sitting room, dining conservatory, fully-fitted kitchen and private garden. There is also a children's play area outside.
Houses can be rented for as little as one night.
Tel:  +44 (0)1957 711711
Web:  www.saxavord.com
—–
HANNIGARTH, EASTING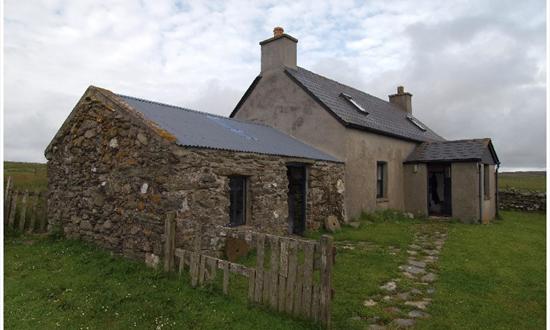 Hannigarth is a traditional lovingly restored, Shetland croft house looking out over Sandwick beach. The house provides an ideal base for walking, observing wildlife and investigating the rich and diverse history of the island of Unst.
The property sleeps 6 with one double and two twin bedrooms. The accommodation also includes a living room, kitchen and bathroom.
We recommend that you visit the web site at www.hannigarth.co.uk to find out more about the house, its history and the many things to see and do in the local area.
—–
NORTH BOOTH, WESTING
North Booth provides the perfect base to explore this fascinating island. Located on Westing beach and surrounded by its own walled garden overlooking Bluemull Sound, this self catering accommodation options offers up the ideal spot for enjoying wonderful sunsets and watching seals and otters on the beachfront. Warm and well-appointed with an open-plan lounge/kitchen/dining area with fireplace and peats provided. The cottage sleeps 4 people. Well behaved pets welcome. £375 per week.
Westing, Unst, ZE2 9DL
Tel: 01343 860227
Email: northboothunst@gmail.com
Website: http://www.facebook.com/northboothunst
—–
Da Barn, Westing 
Da Barn is situated in the Westing, on the west side of Unst, Britain's most northerly island. Da Barn offers fully equipped, warm and comfortable self contained accommodation within the peaceful surroundings of the Westing, as well as stunning uninterupted views along the west coast of Unst and across to the island of Yell. Seals and otters can also be seen along the shoreline.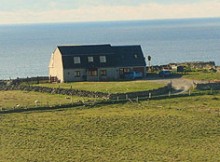 sleeps 2 (1 double)
contact Denise NIven
Tel 01957 755255
email: neesienivs@Hotmail.co.uk
web page   www.dabarnunst.co.uk
Murrister
Uyeasound, Unst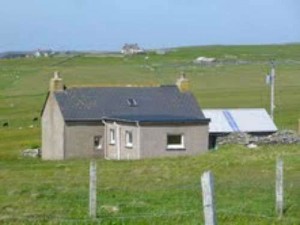 Sleeps 1-4
Murrister ia a traditional croft holiday cottage in Uyeasound at the south end of the beautiful Shetland Island of Unst. Surrounded by fields often with a range of cows, sheep and Shetland ponies, and rabbits, birds and wild flowers in profusion the cottage overlooks the village itself. There are numerous walks for all levels in the area, long sandy beaches, remains of Viking settlements, a ruined castle and fishing lochs.
For bookings, call Lesley Main on 01592 269638
or use this website