In The Beginning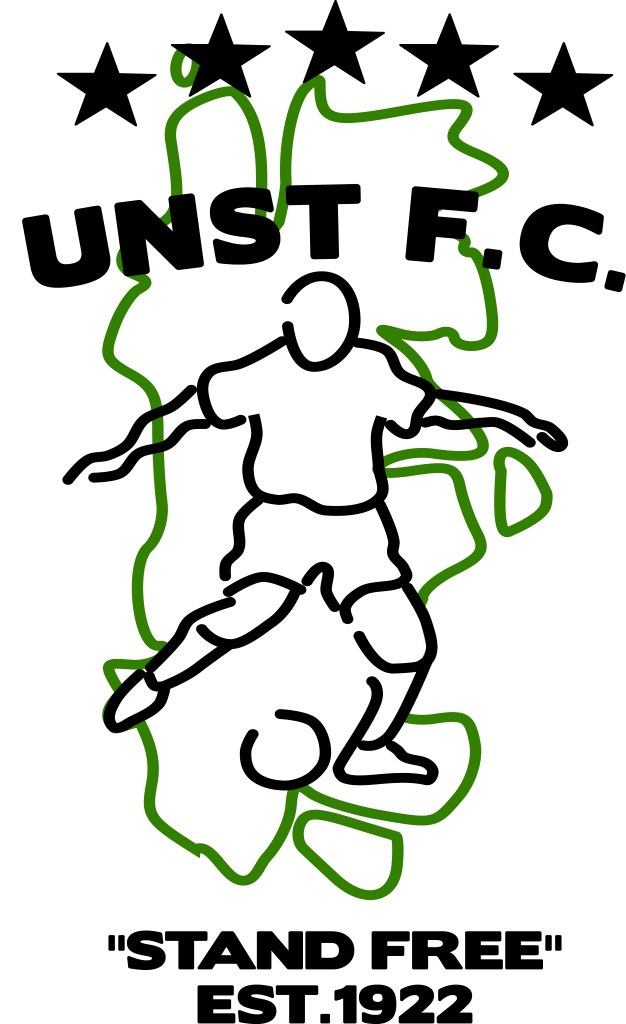 In September 1922, a meeting was held to discuss forming a football association on the island. Three captains were appointed at the meeting – James Priest of Valsgarth for Haroldswick, James-John Hunter of Clivocast for Uyeasound and D. Swanson of Marypark for Baltasound. It was necessary to order boots, 'knickers' and jerseys for some sixty players and five footballs. Towards this cost – boots were 6s 9d per pair and knickers 4s 6d per pair – each player was asked to contribute 11s 3d. Clubs each tried to raise funds in different ways, for instance in North Unst Public Hall in February 1923, a Euchre Drive was held, with all the funds, bar enough for 'fire and light' going to Haroldswick FC.
Of paramount importance, of course, was the need for pitches to play on, and each club identified an area for home advantage – Baltasound at Halligarth or the Show Park; Haroldswick at the "Brakes" and Uyeasound on ground between the Kirk and Manse. Names were decided upon – Northern Rangers who played in red and white, Baltasound United in green and white and Uyeasound Thistle in blue and white.
In 1922, the first playing season, each team was scheduled to play each other 6 times. The earliest first team members of the three Unst sides were:
Haroldswick: Andrew John Thomson; James Thomson; Laurence Bruce; John Thomson; James Priest; John William Priest; William Bruce; Andrew Priest; Magnus Priest; Anthony Henderson.
Uyeasound: Gilbert Johnson; Peter Nevin; William Nevin; Dan Smith; James Hunter; Henry Hunter; James J. Hunter; Peter Clark; William C. Jamieson; William G. Jamieson; Oliver Peterson
Baltasound: A.M. Jamieson; G. Nisbet; H.W.L Hunter; J. Stout; A. Jamieson; J. Mathieson; A. Hughson; J. G. Hunter; H. Henderson; G. Thomson
The first winners of the Hamilton Cup were Northern Rangers, in 1923. Uyeasound Thistle were the first winners of the 1923 league.
From these early days, Unst Football flourished. The first major away trip took place in 1925 when an Unst side visited Lerwick and Scalloway from 28th February to 9th March. The fifteen players (see below) travelled down on the Earl. There were no players or manager, with captain James-John Hunter's only instruction being to make sure everyone got a game. Three games were played with the isles men beating Lerwick Thistle 2-0, drawing 2-2 with Lerwick Rangers, but going down 1-2 to Scalloway. Three games and nine days later they arrived back in Unst after a very adventurous and successful journey into the unknown!
A year later, Unst again visited Lerwick from 6th March to 14th March. This time James Priest was captain and again three matches were played with high scoring being rule of the day. Unst beat Scalloway 6-4 but lost 4-5 to both Lerwick Thistle and Rangers. Another very creditable performance during a hectic week of entertainment, much appreciated by the isles men.
After a break for the war, Magnus Stove arrived in Uyeasound to teach, and together with James John Hunter back from Canada he set up new goalposts in Uyeasound, this was the beginning of Uyeasound's hey day with the likes of Geordie Jamieson, Brian and George Hunter, Robert Niven, Alaistair Hughson and Roderick Jamieson coming through the ranks. Uyeasound went onto play a number of seasons before joining with Baltasound United in 1963 due to a
lack of players.
In 1955 an R.A.F team joined the local league and due to the amount of players they were able to call upon (a pool of over 100 men). In fact by the 60's the R.A.F proved so strong that they entered the Lerwick leagues with an 'A' team and used a 'B' team in the local leagues. During the interim years, league play continued in Unst, with the local teams catching up with the R.A.F and in particular a very strong Northern Rangers team often present in prizegivings throughout the the 1970s and 1980s.After forming a team to enter the Shetland B league, Unst went on to taste their first success in 1994. They repeated this feat in 1997, 2001 and 2005.